Tags:

apiedit

,

Visual edit

Line 2:
Line 2:
 

'''William Emerson "Will" Arnett''' (born May 4, 1970) is a Canadian comedic actor, best known for his comedic roles as George Oscar "G.O.B." Bluth II in the Fox show Arrested Development, Devon Banks in the NBC show 30 Rock and Chris Brinkley in the NBC television series Up All Night. He played supporting roles in the mini-series The Increasingly Poor Decisions of Todd Margaret and films such as Semi-Pro, Blades of Glory, RV, Hot Rod, Let's Go to Prison and The Brothers Solomon. Arnett is also a voiceover artist for commercials, films, television programs, and video games.

 

'''William Emerson "Will" Arnett''' (born May 4, 1970) is a Canadian comedic actor, best known for his comedic roles as George Oscar "G.O.B." Bluth II in the Fox show Arrested Development, Devon Banks in the NBC show 30 Rock and Chris Brinkley in the NBC television series Up All Night. He played supporting roles in the mini-series The Increasingly Poor Decisions of Todd Margaret and films such as Semi-Pro, Blades of Glory, RV, Hot Rod, Let's Go to Prison and The Brothers Solomon. Arnett is also a voiceover artist for commercials, films, television programs, and video games.

 
 
−

He played [[Vernon Fenwick (Paramount)|Vernon Ferwick]] in the [[Teenage Mutant Ninja Turtles (2014 film)|2014 film reboot]].

+

He played [[Vernon Fenwick (Paramount)|Vernon Ferwick]] in [[Teenage Mutant Ninja Turtles (2014 film)|2014 film reboot]].

 
 
 

{{DEFAULTSORT:Arnett, Will}}

 

{{DEFAULTSORT:Arnett, Will}}
---
Revision as of 19:44, 3 June 2016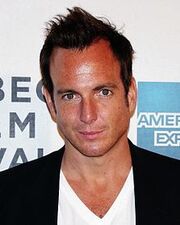 William Emerson "Will" Arnett (born May 4, 1970) is a Canadian comedic actor, best known for his comedic roles as George Oscar "G.O.B." Bluth II in the Fox show Arrested Development, Devon Banks in the NBC show 30 Rock and Chris Brinkley in the NBC television series Up All Night. He played supporting roles in the mini-series The Increasingly Poor Decisions of Todd Margaret and films such as Semi-Pro, Blades of Glory, RV, Hot Rod, Let's Go to Prison and The Brothers Solomon. Arnett is also a voiceover artist for commercials, films, television programs, and video games.
He played Vernon Ferwick in the 2014 film reboot and the 2016 sequel.
Community content is available under
CC-BY-SA
unless otherwise noted.