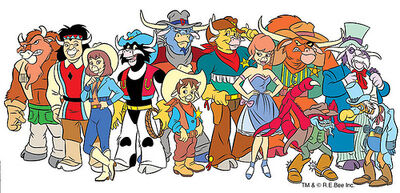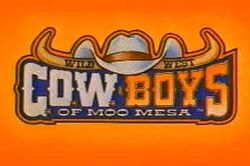 | | |
| --- | --- |
| | This article or section is incomplete. Some information regarding this topic has not been added. Please help TurtlePedia by finishing this article. |
Wild West C.O.W.-Boys of Moo Mesa was an American animated television series for children created by Teenage Mutant Ninja Turtles comic book artist Ryan Brown. It featured many voice actors such as Pat Fraley and Jim Cummings. It was produced by Greengrass Productions and animated by Gunther-Wahl Productions for its first season and then by Ruby-Spears Productions for its second season. C.O.W.-Boys aired Saturday mornings on the American Broadcasting Company television network. Originally a production of King World the series is now owned by CBS Television Distribution through their acquisition of King World in January of 2000. Paramount Home Entertainment releases CBS-owned programs to the home video market. CBS Consumer Products currently owns the video rights to Wild West C.O.W.-Boys of Moo Mesa DVD compilations.
First broadcast on September 12, 1992, the television series ran for two seasons, spanning 26 episodes, before the show was canceled on May 26, 1994 with Disney's acquisition of ABC. The series was then broadcast on Toon Disney from April of 1998 to April of 2001.
Plot
The series told how an irradiated comet had struck the late 19th century Western plains creating a miles high mesa shrouded in clouds. Any animals that were on the formation of the Mesa at the time were transformed into their anthropomorphic state.
Characters
Main Characters
Other appearances
Mirage
 YOU'RE NOT ON 
 NICKTOONS 
 ANYMORE! 

Some TMNT stuff really isn't for little kids.
In Mirage Studios' Tales of the TMNT volume 2 issue 21: A (Bull) Wrinkle in Time, the C.O.W.-Boys chase Sheriff Terrorbull through a portal that leads them into New York City. There they meet Hamato Splinter and the Turtles who aid them in capturing the villainous Terrorbull.
The C.O.W.-Boys return in issue 32: The Eye of Aga-Moo-Tou. Written by Stephen Murphy, this March 2007 issue tells the story of Savanti Romero's pursuit to possess an all-seeing cosmic eye that, once in his possession, will allow him to harness the power of the universe. It's up to the Turtles and the C.O.W.-Boys to stop him. Other Moo Mesa characters that make an appearance in the issue are Miss Lilly Bovine, Cody Calf, Cowlamity Kate, Mayor Oscar Bulloney, Saddlesore Scorpion and Boothill Buzzard. The story ends with Bixolio, an Utrom in a cowboy exoskeleton, exiting the Tumbleweed Saloon and riding off into the sunset. There are two versions of this comic book. The regular edition sold through the direct sales market and an event exclusive edition sold only at a one day TMNT art exhibit. It features a new, alternative cover.
In issue 52: The Crystal at the Heart of the World,
In issue 58: All Tomorrow's Yesterdays,
Peter Laird helped plot all Tales of the TMNT crossovers with the Moo Mesa universe.
| | |
| --- | --- |
| | This article or section is incomplete. Some information regarding this topic has not been added. Please help TurtlePedia by finishing this article. |
The C.O.W.-Boys of Moo Mesa make a cameo appearance in the 2003 TMNT animated series Fast Forward episode Home Invasion.
The Turtles visit the Tumbleweed Saloon in Moo Mesa in the form of a virtual simulation, where they fight a cast of Cowtown villains and play a hand of cards with heroes Marshall Moo Montana, the Dakota Dude, and the Cowlorado Kid.
The featured Moo Mesa villains are Sheriff Terrorbull, Boothill Buzzard, Shock Holiday, Big Bucks, and Stub, all of whom first appeared in the 1992-1994 Wild West C.O.W.-Boys of Moo Mesa animated ABC television show. In addition to these characters are Lone Grunger, Butch Cowsiddy, and Slick Willie Weasel who weren't seen in the TV series.
Brown has been asked at a number of convention appearances to clear up the confusion surrounding the C.O.W.-Boys Fast Forward appearance and about why the TMNT fought them. He explained that after preliminary talks, multiple Moo Mesa characters were provided to 4Kids Entertainment for the Home Invasion episode and that each character was clearly identified as a good guy for the final card table scene or bad guy for the fight sequence. The TMNT were never supposed to battle the good guys Marshal Moo Montana, the Dakota Dude and the Cowlorado Kid, and one must assume that the animators, not being familiar with the Moo Mesa characters, merely mixed them up. Brown further explained that due to the episode's extremely tight deadline he did not get to view the final product until the broadcast date. Also of note, Brown's name is misspelled in the end credits for the show.
External Links
Community content is available under
CC-BY-SA
unless otherwise noted.