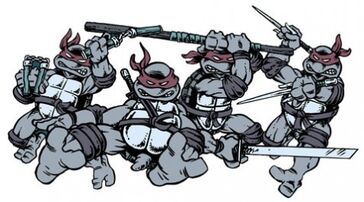 Throughout the years, the Ninja Turtles have been known for using the following weapons: Twin Katana (Leonardo), Bō (Donatello), Sai (Raphael), and Nunchaku (Michelangelo). However, during certain circumstances, the Turtles have used different weapons. Most prominently was in the original cartoon, where Michelangelo was forbidden from using his nunchaku in some parts of Europe, and was forced to use other weapons for some time.
Admin's Note: Please try to only use prominent examples here.
Donatello
Leonardo
Michelangelo
Raphael
Venus
Jennika
Lita (future)
Community content is available under
CC-BY-SA
unless otherwise noted.