Line 1:
Line 1:
 

[[File:Three5.png|mini|thumb|Vortex transporter]]

 

[[File:Three5.png|mini|thumb|Vortex transporter]]

−

A '''Vortex transporter''' is a teletransporter used by Dregg and Mung in the 1987-1996 animated series. In the episode ''[[The Power of Three]]'', they use it to transport Shredder and Krang from Dimension X to Earth.

+

A '''Vortex transporter''' is a teletransporter used by Dregg and Mung in the 1987-1996 animated series. In the episode ''[[The Power of Three]]'', they use it to transport Shredder and Krang from Dimension X to Earth.

 
 
 

Transporting such long distances require large amounts of energy, causing a power blackout across [[New York City]].<ref>[http://www.tv.com/shows/teenage-mutant-ninja-turtles-1987/the-power-of-three-1-76804/ The Power of Three at TV.Com]</ref>

 

Transporting such long distances require large amounts of energy, causing a power blackout across [[New York City]].<ref>[http://www.tv.com/shows/teenage-mutant-ninja-turtles-1987/the-power-of-three-1-76804/ The Power of Three at TV.Com]</ref>
---
Revision as of 06:36, 3 March 2018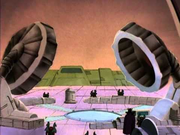 A Vortex transporter is a teletransporter used by Dregg and Mung in the 1987-1996 animated series. In the episode The Power of Three, they use it to transport Shredder and Krang from Dimension X to Earth.
Transporting such long distances require large amounts of energy, causing a power blackout across New York City.[1]
References
Community content is available under
CC-BY-SA
unless otherwise noted.