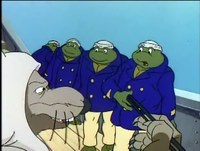 The Vacation in Europe or European Vacation is a story arc, often referred to as a sub-season or side-season, which aired during Season 7 of the 1987 TV series, although chronologically it takes place during season 4 or between seasons 4-5, after the Turtles and Splinter win a trip to Europe[1] at the end of Plan 6 from Outer Space. The Technodrome is located on the Volcanic Asteroid in Dimension X during these episodes, as they take place during season 4.
The story arc consists of 13 episodes. In some of them, Shredder, Krang, Bebop and Rocksteady follow the Turtles, while in others they face other antagonists.
The first episode, Tower of Power, has the Turtles and Splinter riding the Maude ship across the North Atlantic Ocean from New York City towards France.
The side-season was released to DVD, together with season 7, in Region 1 on November 3rd, 2009.[2]
Episodes
References
Community content is available under
CC-BY-SA
unless otherwise noted.