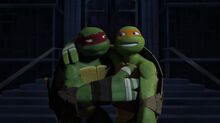 My name is Erik. I am a big fan of Teenage Mutant Ninja Turtles since I first saw the 1987 series when I was younger, and I am excited to see everything that happens with the latest version of the franchise with the 2012 television series and the Turtles attempts to save the Earth from the Triceratons before turning their attention back to previous villains like the Shredder and the Foot Clan. However, I am getting impressed by the number of allies they are getting in Season 4 with the Salamandrians, Daagons, and the Aeons. I thought the first three seasons were good, but Season 4 really has me hooked on the show more than ever. Also, now that the Turtles' journey through space is over and the Earth is safe, it will be interesting what happens now since the Triceratons are no longer a threat, and we might see the Fugitoid again as well if what we see at the end of Earth's Last Stand is any indication. I'm glad to see Karai again now that the Turtles are back on Earth. Glad to see Season 4 has resumed after being on hiatus for four months. Also, can't wait to see this version of Super Shredder and what happens to April with how's she acting lately with her gift from the Aeons following the last episode before the current hiatus. Things are getting interesting lately...
I am also certified in CPR and First Aid, but have been unable to renew it due to the cost right now to do so. Despite that, I still have the skills and training, so that counts for something. I'm sure the Sheriff and other emergency services will understand if I have not been able to renew it yet due to expensive costs. I might be able to renew it somewhere else, like the American Red Cross or one of St. Mary's of Michigan's establishments.
I'm also a big video game player, playing titles like Halo, Kingdom Hearts, Call of Duty, Dynasty Warriors, Sonic the Hedgehog, Legend of Zelda, Need for Speed, Garry's Mod, Dota 2, Left 4 Dead, Portal, and Team Fortress 2. As for PC, that includes The Sims, Command & Conquer, Roller Coaster Tycoon, and Starcraft.
I'll add more to my user page as time goes on.
Favorites