Foot Ninja Disappear!


This user is an administrator of TMNTPedia.
Leave any comments, questions or suggestions on their talk page.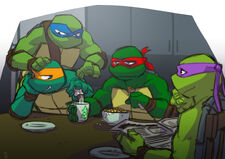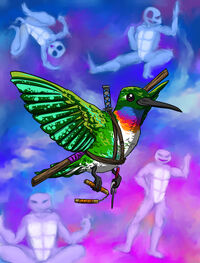 I've been a fan of TMNT since the '80's. I am the creator and administrator for the TMNTFanfictionHub, a library containing lists of award winning TMNT fan written works as well as fanfiction recommendations from hundreds of fans. The list currently contains over 2,600 stories, all categorized to make finding what you want to read very simple. I also enjoy writing transcripts for TMNT cartoon episodes. Cowabunga!
My Favorites
TMNT Cartoon Version: TMNT 2003
Favorite Character: Donatello (2003)
Turtle with whom I have the most in common: Leonardo (2003)
Favorite Villain: Agent Bishop (2003)
Favorite 2k3 Episodes:
Fandom Info
I have written over 3 million words of TMNT Fanfiction since actively joining the fandom in 2004. Through the years I've made friends with a lot of very talented people, many of whom have worked on one or more of the cartoon versions and/or the comics. On my death bed I'll probably take some TMNT memorabilia with me, just to keep myself entertained.
I am also a contributor to a small town newspaper, though that is not my primary occupation. Writing has been a passion ever since I could pick up a crayon!
My Direct Impacts on TMNT
I named Terry.
hummerhouse                                                                                           10-25-2020 01:09 PM
Hi Sophie! I just wanted to verify that the mutant Zebra bartender who appears in issue 105 is named Terry. Thanks for everything you do!
Sophie Campbell                                                                                       10-25-2020 02:27 PM
Yep, Terry is correct!