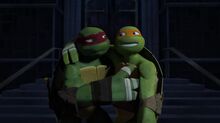 Hi everyone, I love so much of the TMNT because I began interested on the series.
Favourite Turtles
I realized that Leonardo is one of my favourite turtles because I love his 2 katanas and its colour (since I love black) and as well I love him without mask because he is very cute and he has a pretty good face. And I love Michelangelo because he is very funny with his actions and with his catchphrases, and I also love him without his mask because in the 2012 series he has a pretty cute childlike face.
Favorite Things
Favourite Show- TMNT (1987,1996,2012)
Favorite Turtle- Leonardo (1987) Michelangelo (2012)
Favorite Villain- Rocksteady (1987)
Community content is available under
CC-BY-SA
unless otherwise noted.