Union Square Park is a real-life park in the New York City borough of Manhattan.
IDW
 YOU'RE NOT ON 
 NICKTOONS 
 ANYMORE! 

Some TMNT stuff really isn't for little kids.
Though never referenced by name, a fictionalized version of Union Square Park appears in the IDW continuity's City at War story arc, where New York City Mayor Elect Baxter Stockman held his victory celebration. The event was infiltrated by Old Hob and Man Ray, and Hob rushed the podium, forcing Stockman to flee. There, Hob announced his existence and manifesto to the world, and proceeded to detonate a mutagen bomb which he and Ray had prepared without the knowledge of the other Mutanimals. The bomb triggered a massive mutation event of hundreds if not thousands of unwilling human victims both in Union Square Park and in a broad swath of Manhattan's East Side to the park's east where the wind carried the mutagen fallout.
Mayor Stockman and the Earth Protection Force established Mutant Town as a quarantined zone in the affected neighborhoods, with at least part of Union Square Park falling within the zone's boundaries.
Geography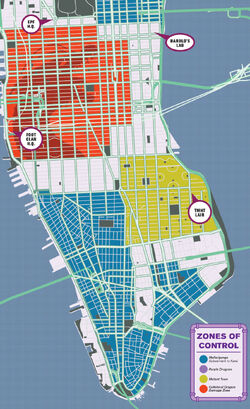 The in-universe location of the mutagen bomb's detonation is marked on the Zones of Criminal Control maps published in both issue #98: City at War, part 6 and issue #99: City at War, part 7. Its coordinates are roughly 40°44'7.30"N, 73°59'23.65"W, situated near the address 15 Union Square East.
After the establishment of Mutant Town, the Zones of Control map published in issue #101 shows this address at or near the western boundary of the 50-foot-high wall surrounding the newly quarantined neighborhood, with at least part of Union Square Park itself falling within the zone. This is logical considering that the wind was blowing towards the east when the bomb detonated, and this area and all of Manhattan directly to the east was contaminated with mutagen, but most of Manhattan to the west was spared.
Community content is available under
CC-BY-SA
unless otherwise noted.