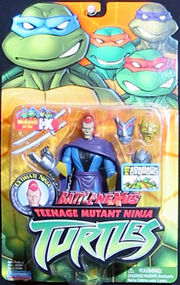 Ultimately nasty, that is!
Vital Statistics
Vehicle of Choice: Gyoji
Weapon of Choice: Tekko Kagi; Lying and Cheating
Birthplace: Home of his father, the Daimyo
Height: 6′
Ripped Weight: 185 lbs.
Age: Unknown
Also Known As: Ue-sama
He calls himself the Ultimate Ninja, but to the Teenage Mutant Ninja Turtles he's more like the ultimate Pain-in-the-Butt! This nasty boy from outside of our space and time first appeared on Earth looking to battle the Shredder, but after learning that ol' chrome dome had been defeated by Leonardo he instead challenged the Ninja Turtle to a duel… a duel to the death! And a duel that Leonardo eventually won after a hard-fought battle atop the Brooklyn Bridge! The Ultimate Ninja crossed the Turtles' path in the Battle Nexus, where, once again, he proved himself both ultimately nasty and an ultimate loser!
Community content is available under
CC-BY-SA
unless otherwise noted.