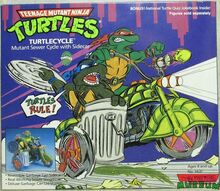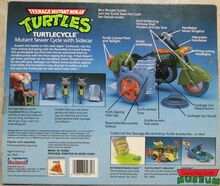 "Mutant Sewer Cycle with Sidecar"
Description
Screech into battle on this road-ripping Turtlecycle. Get the foot coming and going with the Reversible Armored Sidecar. Pull up alongside any Foot Clan minion and shred them to mindless pieces with the Foot ripping Hup Cap. If that doesn't get them, pull back on the Handlebar Sewer Slingshot and aim for the softspot. Garbage Can Plated Armor protects against Foot blasts and Donatello's crazy driving! So saddle-up and kick-start for real radical road rolling!
Accessories/Features
Foot Deflecting Tortoise Shell Fenders and Gas Tank
Turtle License Plate and Tail Light
Sewer Saddlebags
Sewer Slingshot
Adjustable Handlebar
Smog-cutting Headlights
Garbage Can Plated Armor
Garbage Can Shield
Smoke-screen Side Pipes
Reversible/Removable Sidecar
Foot-ripping Hub-Cap
Turtle-belted Tires
National Turtle Quiz Jokebook
Notes
Gallery
Community content is available under
CC-BY-SA
unless otherwise noted.