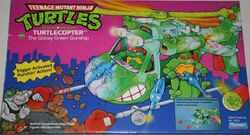 It's the turbulent Turtle attack-craft that's designed for inner-city battles with downtown terrorists. This baby comes completely decked out with trigger activated boxing glove skids to punch out the Foot, sewer snake rotors and two detachable garbage can bombs that blow open for Ooze bursts (Ooze not included). The dual retro-turbos provide the power - and the tortoiseshell casing provides the protection. To trip up the Foot, there's the Turtlehand side-gunner with sewer-strafing machine gun and three more mutant weapons on the sides and front. This flying Turtle tanks is big enough to hold up to five figures. Includes pilot chair, console and surfboard wings. This chopper even freewheels on the ground. Bonus city map included. Figures sold separately.
Community content is available under
CC-BY-SA
unless otherwise noted.