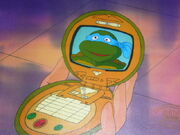 The Turtlecom, or Turtle Communicator, is a device used by the Turtles, April, and Zach in the 1987-1996 TV series to communicate with one another when in separate areas.
April's Turtle Comm is designed to resemble a makeup compact mirror, so she can use it in public without drawing too much attention torwards her. The Turtles and Splinter tend to use models that more closely resemble walkie-talkies.
Trivia
Gallery
See Also
Community content is available under
CC-BY-SA
unless otherwise noted.