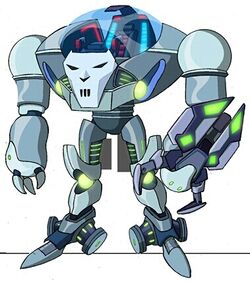 In the 2003 TV series, Turtle X was Cody Jones' mecha, that he utilized to enter combat prior and during his ninja training. A second Turtle X was made from the combination of the first turtle x and Serling after his near-destruction.
Capabilities
Has strength and weight are roughly equal to a small tank.
Wields an ice hockey stick and goaltender mask resembling Casey's.
He has laser guns in his hands.
When used with Serling, it can communicate with him.
Decompiler shield and ray.
Notes