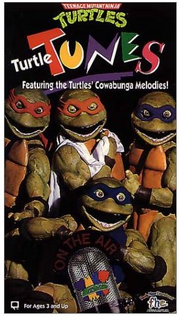 Turtle Tunes is a 25-minute, live-action special released direct-to-video in 1994.[1]
Plot
April O'Neil gets the Ninja Turtles their very own show, and the Turtles themselves ask the kids if they'd help shoot some footage of them in the park for their videos.
Music
Some of the songs are basically children's tunes re-written with references to the TMNT franchise. Here's a list:

"We've Been Livin' in the Sewer" ---> "She'll Be Coming Round the Mountain "
"

Skateboardin' Round the Fountain

" ---> "I've Been Working on the Railroad"
"

Leonardo Has a Row Boat

" ---> "Yankee Doodle Dandy"
"

I Love to Ride the Carousel

" ---> "Oh, Suzanna!"
"

It's a Pity When the City Isn't Clean

"
"

I Got Friends

"
"

On Top of the Pizza

" ---> "On Top of Spaghetti"
Continuity/Logic Errors
Michaelangelo is seen wearing the scarf he had in the Christmas special, but it doesn't appear in this itself.
According to this special, Leonardo can't swim.
Raphael sings a song about friendship despite Raphael usually being the anti social one.
The Turtles sing a song about picking up garbage, but at one point Michaelangelo seems to be cleaning trash with just a stick.
One of the lyrics in the garbage has Donatello lamenting about "slipping on gum." Despite gum usually being sticky.
Near the end of the "

On Top of the Pizza

" song, Raphael lifts his arm and yells, "Cowaaaabunga DOOOOOOOOOOOOOOD!" in a very coughed voice.
Special Effect Errors
This special uses the same costumes and exactly the same opening song as We Wish You a Turtle Christmas.
In one scene, when Leonardo's facing the camera, you can peer into his mouth and see the background through a hole in it. We get a repeat of this from Mikey when he talks about the show almost being over.
Raphael's mask is slipping off of his face at the very end of "Don't Talk To Strangers", and right before "

I Love To Ride The Carousel

".
For some reason, a ukulele sound can be heard from the keyboard during the friendship song.
Nods and References
The Turtles once again mention April O'Neil and other characters from the show without them actually appearing.
References