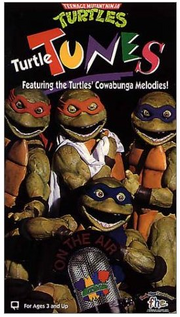 Turtle Tunes is a 25-minute, live-action special released direct-to-video in 1994.[1]
Plot
April O'Neil gets the Ninja Turtles their very own show, and the Turtles themselves ask the kids if they'd help shoot some footage of them in the park for their videos.
Music
Some of the songs are basically children's tunes re-written with references to the TMNT franchise. Here's a list:
Continuity/Logic Errors
Special Effect Errors
This special uses the same costumes and exactly the same opening song as We Wish You a Turtle Christmas.
In one scene, when Leonardo's facing the camera, you can peer into his mouth and see the background through a hole in it. We get a repeat of this from Mikey when he talks about the show almost being over.
Raphael's mask is slipping off of his face at the very end of "Don't Talk To Strangers", and right before "I Love To Ride The Carousel".
For some reason, a ukulele sound can be heard from the keyboard during the friendship song.
Nods and References
The Turtles once again mention April O'Neil and other characters from the show without them actually appearing.
References
Community content is available under
CC-BY-SA
unless otherwise noted.