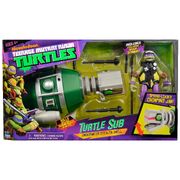 Underwater Stealth Shell
Description
When menacing mutants sing to new lows, the Turtles are ready to make waves. Donatello-designed for deep dives to sink Shredder or capsize the Kraang - this rig is ready for sewer surveillance, sub-sea stealth and aquatic assault.
Rolls on land, Submerges in Water!
Twin Terrapin Turbo-Torpedoes
Old School View Tube
Mutant-Munching Mandibles
Four Flip-Fin Stabilizers
Exclusive Diver Donnie Figure
Captain Controls For Diver Donnie
Accessories
Turtle Sub:
2 Firing Torpedos
Weapon Rack
Diver Donnie:
Black Sansetsukon
Black Knife
Weapon Sheath
Articulation
Turtle Sub:
Spring-loaded Chomping Jaw
Hinge Opening Hatch Shell
Swivel Periscope
Diver Donnie:
Ball Joint Head
Swivel hinge Shoulders
Swivel Hinge Elbows
Swivel Wrists
Swivel Hinge Hips
Swivel Hinge Knees
Notes
Works with most Turtles Figures
In the Turtle Sub's computer screen there's an image of the Sea Monster's concept art.
Gallery
Community content is available under
CC-BY-SA
unless otherwise noted.