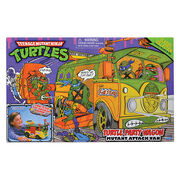 Mutant Attack Van
Description
The Turtle Party Wagon was a toy version of the Turtle Van seen in the Teenage Mutant Ninja Turtles (1987 TV series). It was reissued in 2009 as part of the 25th Anniversary Toyline and again in 2013 as part of the Classic Collection.
The radical, super-cool, Super-Spoiler on top of the van triggers the Foot-pounding tenderizer, whacko bombs, and other party surprises! All this control is now in the palm of your Foot-bustin' hands! Turtle-plated flip top allows easy access for six action figures—more if you squish 'em!
Own the most advanced party vehicle ever designed! Originally released in 1988, this mutant attack van includes:
Turtle shell hubcabs and radical racing radials
Shell-proof armored windshield visor
Dual CB antenna machine guns
Swinging spring-action Foot tenderizer (holds one figure)
Street-level bomb slide for launching whacko bombs
Foot-finder radar blaster
Notes
Gallery
Community content is available under
CC-BY-SA
unless otherwise noted.