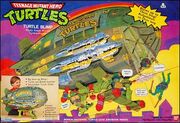 Mutant Madness from the Clouds!
Description
Now, with the incredibly wacky Turtle Blimp, you can help the Turtles patrol for the evil Shredder and his band of stinky cohorts, the Foot Clan! Yea, you control the action as the Turtles dive into battle from their zappin' zeppelin. That's right! You command the Blimp over the city skyscrapers and swoop in for sneak attacks with the Turtle Glider. No leaky batteries. no tangled strings or rusty springs, just you and good clean fun.
Blueprints included for easy-to-follow assembly. If you're a know-it-all, toss'em
Detachable Glider has rolling wheels for ground play!
Turtle Trigger releases bombs and Turtles individually or all together!
Blows up to 30 long
Heavy Duty Turtle Armor
Turtle Trigger
Six pegs hold all Turtle figures!
Detachable Turtle Glider (does not fly)
4 (count'em) Wacko Bombs
Dual Turtle Turbos
Two Turtle Torpedos
Anti-Foot Blaster w/ Rotating Turret
Dual Machine Guns
Infrared Scope
Canop Cockpit w/ Control Stick
Foot Light for Foot Clan detection
Notes
Figures sold separately.
Ages 4 and up
The Turtle Blimp toy had two renditions throughout the original toy releases, the major differences being in the graphics on the actual blimp and slight color differences in the glider body.
The description for Ace Duck's action figure states that he is the Turtle Blimp's pilot.
Gallery
Community content is available under
CC-BY-SA
unless otherwise noted.