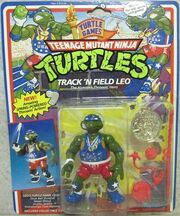 The fanfare fills the sewer when Track 'n Field
Leo
lets loose during the Turtle Games. There's nothing this knobby-kneed ninja can't do. The kowabunga crowd will be cheering for more as Leo takes to the field. And if those
Foot
fanatics figure out a way to compete in the Turtle Games, Leo's got hi Ju-jitsu Javelin for sporting and spearing the cheatin' Clan. Whether it's the Sewer Discus competition or the Ooze Ball Shotput throw, Track 'n Field Leo's got the gear to make his country proud. Yes, red, white and blue is for Mutants, too. Let the games begin!
Community content is available under
CC-BY-SA
unless otherwise noted.