YOU'RE NOT ON 
 NICKTOONS 
 ANYMORE! 

Some TMNT stuff really isn't for little kids.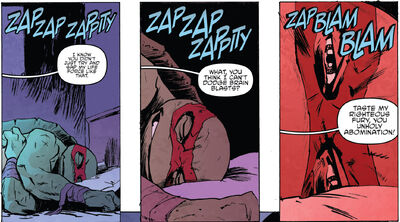 Through Red Eyes is the backup comic in Teenage Mutant Ninja Turtles Universe issue #20, published in March 2018 by IDW Publishing.
Credits
Characters
Summary
A groaning Raphael stumbles into his home late at night, remembering how he and Casey took down some street thugs earlier. Michelangelo is playing a video game, and declares that he's about to beat the high score. Raphael goes into his bedroom and collapses on his bed, but Michelangelo's shouts and the video game's sound effects keep him from falling asleep.
He storms out and throws his sai into the TV screen, enraging Michelangelo, who punches him several times in the stomach. Once Michelangelo has exhausted his fury, Raphael asks what is really going on with him. Michelangelo confides that he finds it hard to sleep with the thought of the Pantheon, Leatherhead and Bishop in his mind.
Raphael points out that after his exertions, Michelangelo is now tired, and the younger brother heads off to bed. Raphael goes back to his own bedroom, passing Donatello building or repairing an object in his lab. As he lies down, the loud crackling of the soldering keeps him from falling asleep... again.
Transcript
Community content is available under
CC-BY-SA
unless otherwise noted.