Sup Yosh? I don't do this very often but I've got a favor to ask. My photoshop is screwing up on me and I can't make any gifs right now, so when you get the time could you make a few gifs from the Thalos 3 episode for me? Specifically three of them.
1. The first fight scene where Mona Lisa flips over to Donnie and smacks him away with her tail.
2. When Mona kicks down Donnie and Raph, while dodging April's gun blaster, and then Mona smacks April away with her tail. That sounds like alot but it happened in like 3 seconds. EXCELLENT GIF material right there. It would look so awesome in the "Abilities" section on her page.
3. One of these that are actually visible to the human eye when you put it on a page.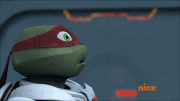 Also, If you know how to make gifs from a video you downloaded on iTunes I'd appreciate for you to fill me in on it. I'm doing some major renovation of Y'Gythgba's page so I'd appreciate any help I can get.