Nah! I don't think so. But especially based on this fact and that I didn't see Sal using that weapon, I certainly can't rule it out. But if he is related to her, I can kind of see him as more as a crazy older brother/cousin. The Kraang did refer to him as a criminal, so I kind of get the feeling that Newtralizer is a traitor to the Salamandrian armada, who stole a ton on things and went nuts when he didn't get his way. Shell, he probably could have  even sunk as low as to strike a deal with the Triceratons. A SALAMANDRIAN working with the Triceratons. Now that's just evil. I don't know how but I feel like the next time we see Newtie, he's gonna either have his own army, or super powers. Honestly, I can kind of see Newtralizer in the upcoming The Arena of Carnage episode, along with my boy Traximus. I actually made a thread about it. You should check it out. I got some crazy ideas of what that episode will be like.
Btw I just wanted to point out that we currently know that extending you hand for a handshake is the Salamandrian gesture for combat, which is why the Mona Lisa and Sal Commander attacked Leo and the other turtles, so why did this happen when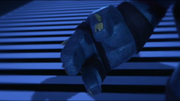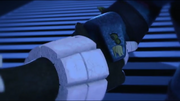 Slash did the exact same thing Leo did, but to another Salamandrian?