Rewrite needed!


The text on this article or article portion isn't quite up to snuff. Do you have what it takes to make it work?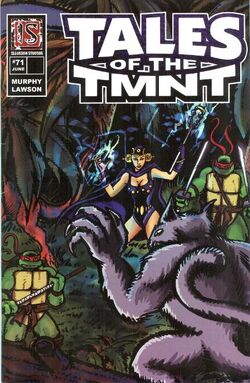 HEY, KID, YOU'RE 
 A LONG WAY 
 FROM NICKTOONS! 

Some TMNT stuff was always meant for grownups.
The Paradox of Chudnovsky is a story with a long history. It has been published in two official non-English language compilations (Spanish and Russian), and in English in an unofficial printing (oddly, by the man who would later become the comic's official distributor in Russia).
Talent
Story: Stephen Murphy
Script: Stephen Murphy
Pencils: Jim Lawson
Inks: Eric Talbot
Frontispiece: Jim Lawson, Marina Prokopyeva, Arseniy Dubakov
Translation/Script Editing/Scripting: Efrahn Ostos Garcha, Andrew Modeen
Characters
Plot
| | |
| --- | --- |
| | This article or section is incomplete. Some information regarding this topic has not been added. Please help TurtlePedia by finishing this article. |
Legacy
The reason for creating this story was due to the assumption on Peter Laird's part that he would not have permission to use Dave Sim's Cerebus in a reprint of Teenage Mutant Ninja Turtles #8. Sim gave his blessing provided proper credit and payment was made, but Mirage Studios went forward and wrote the replacement for TMNT #8.
The story was printed in a collected book in Spanish (Las Tortugas Ninja: TMNT 2, by Norma Editorial), but an agreement between Laird and Sim was made before any English edition of the story could be printed.
In 2011, Arseniy Dubakov printed a limited run of the story in English and Russian under his Illusion Studios banner, as Tales of the Teenage Mutant Ninja Turtles #71. The story was officially printed again by Dubakov and Illusion Studios after becoming the official distributors of the Russian market editions of TMNT comics, in a collected volume. This version features a new frontispiece by Jim Lawson, as well as a previously missing epilogue never been published in the previous two editions of the story.
Community content is available under
CC-BY-SA
unless otherwise noted.