YOU'RE NOT ON 
 NICKTOONS 
 ANYMORE! 

Some TMNT stuff really isn't for little kids.
Solicit
A winner is crowned in Jennika's battle of the bands and two old foes make surprising revelations as the TMNT and allies prepare to take Mutant Town in a new direction! Important steps towards the next chapter of the TMNT saga are made here!
Appearing in #117
Characters
Artemisia

(debut)

Bob

(debut)

Carmen

(debut)
Doro (debut)

Jinx

(debut)

Miles

(debut)
Species
Mutant arctic fox
Deity
Mutant falcon
Mutant hammerhead shark
Human

Human-born mutant armadillo
Human-born mutant bat
Human-born mutant bear
Human-born mutant frilled lizard
Human-born mutant giraffe
Human-born mutant gray wolf
Human-born mutant orca
Human-born mutant poison dart frog
Human-born mutant porcupine
Human-born mutant rhinoceros
Human-born mutant salamander
Human-born mutant turtle

Human-born albino mutant turtle

Human-born mutant warthog
Human-born mutant weasel
Human-born mutant zebra

Mutant lioness
Mutant lizard
Mutant mandrill

Needlenose

Protoceratops
Mutant velociraptor
Locations
Synopsis
| | |
| --- | --- |
| | This article or section is incomplete. Some information regarding this topic has not been added. Please help TurtlePedia by finishing this article. |
Trivia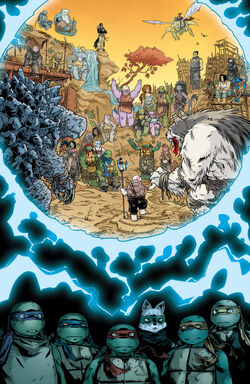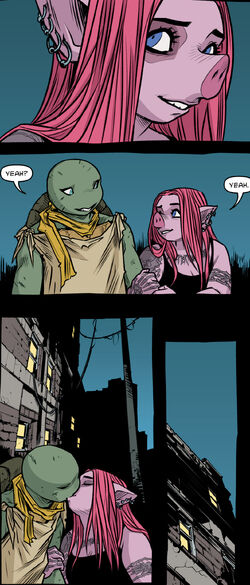 Michelangelo expressed surprise that Jennika didn't name Created in Darkness "Jen and the Holograms." This is a shoutout to Jem and the Holograms, a franchise about a colorfully-dressed fictional women's rock band. A rebooted version by IDW Comics was published from 2015 to 2017, with IDW TMNT writer Sophie Campbell illustrating many of that series' issues.
In the scene where Big Lita returns to the future taking Rahzar and Tokka with her, there is a momentary glimpse of a new future timeline, with many characters gathered in Northampton, Massachusetts to greet her.[1] Alopex, Amy, Bludgeon, Donatello, Jay, Jennika, Casey Jones, Koya, Leonardo, Michelangelo, Mona Lisa, Mushroom, April O'Neil, Oroku Saki, Raphael, Sheena, Wanda, Zanna and Zink are present and recognizable. Other characters also appear, some of them debut appearances, and some of which are new versions of characters previously appearing in other TMNT continuities.

Flying on the

Needlenose

(the giant insect) is established character Angel Bridge.
Sitting next to Amy is a mutant thorny devil named

Jinx

.

Sitting on the other side of Jinx is a mutant turtle with a bow named

Artemisia

, another version of which previously appeared in Sophie Campbell's fan web comic Secrets of the Ooze.

The mutant turtle hovering next to Bludgeon strongly resembles Mei Pieh Chi, another version of which previously appeared in Ninja Turtles: The Next Mutation, but Sophie would neither confirm nor deny that it is her.
The mutant protoceratops standing next to April is established character Pepperoni, who has since mutated.
Standing behind Zink, Raphael and Alopex are (from left to right):

Jennika is the first mutant turtle in the TMNT franchise to be portrayed as LGBTQIA+.
See also
References