YOU'RE NOT ON 
 NICKTOONS 
 ANYMORE! 

Some TMNT stuff really isn't for little kids.
| | |
| --- | --- |
| | This article or section is incomplete. Some information regarding this topic has not been added. Please help TurtlePedia by finishing this article. |
Solicit
The Turtles are separated, each trying to find their own way forward. With their absence, Old Hob fills the power vacuum with the help of some very unusual new mutants!
Appearing in Teenage Mutant Ninja Turtles issue 102 (IDW)
Characters
Species
Cat
Mutant arctic fox
Mutant cat
Mutant lion
Mutant platypus
Mutant porcupine
Mutant raccoon
Mutant salamander
Mutant weasels
Protoceratops
Locations
See also
Teenage Mutant Ninja Turtles issue 102 (IDW)/Transcript
Trivia
The Cover A artwork depicts a situation that already occurred and ended in the previous issue, with Jennika and Mona Lisa were still talking peacefully amongst themselves. Diamond, the mutant porcupine depicted, had already confronted Jenny and Mona before that issue ended.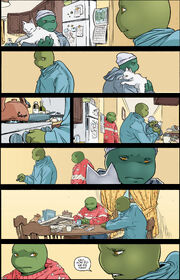 In the scene at the farmhouse kitchen with Mikey, Klunk, Donnie and Leo, it's noteworthy that the three turtles are dressed in casual clothes whose colors do not correspond to their usual bandana colors. Since being given their distinct bandana colors at the end of the "Change is Constant" story arc, the Turtles have sometimes been shown wearing variations on their outfits or other clothes, but they have usually been color-coded to match each of their bandana colors. But in this scene, Mikey is wearing a grey hoodie with white cap, Donnie is wearing a blue turtleneck, and Leo is wearing a red sweater, and none of them are wearing their bandanas or weapons that could otherwise distinguish them. Their skin complexions, however, are different shades and hues of green, which hasn't been a primary means of telling them apart since Change is Constant, and have also had slightly different physical proportions as part of their character designs, though none of these differences in physical appearance are as drastic as those among the 2012 TV series Turtles or the Rise of the TMNT Turtles. Even if the differences between the IDW Turtles are unknown to or forgotten by a reader, when this and other pages in the same scene are included, the Turtles' individual identities are at least clear enough in storytelling context.