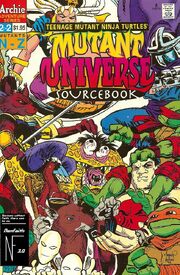 YOU'RE NOT ON 
 NICKTOONS 
 ANYMORE! 

Some TMNT stuff really isn't for little kids.
Rewrite needed!


The text on this article or article portion isn't quite up to snuff. Do you have what it takes to make it work?
TMNT Mutant Universe Sourcebook 2 (L-Z)
#12
Cover: A.C. Farley & Ryan Brown
Writers: Steve Sullivan, Stanley Wiater and Stephen Murphy (credited as Dean Clarrain)
Pencils: A.C. Farley
Inkers Jon D'Agostino, Eric Talbot, Ryan Brown and A.C. Farley
Colors Barry Grossman
Typesetter Robyn Harris

Major characters: Ninjara, Noi Tai Dar, Null, Oceanauts, the Other, Oyuki Mashimi, Paleocha, Manmoth, Raphael, Rat King, Rocksteady, Sasquatch, Scul & Bean, Scumbug, Sewer Jet Ski, Shredder, Slash, Shelton Slujj, Emelia Slujj, Snake-Eyes, Sons of Silence, Splinter, Stump, Sling, Tantric Monkeys, Tattoo, Turtle Blimp, Trap, Turnstone, Tyme, Fayme, Umihaha, Uncanny Trio, Verminator-X, Vid Vicious, Warrior Dragon, White Ninjas, Wingnut, Screwloose, Wrestling Turtles, Wyrdwind, Wyrm, Yaguaro, Yeti, Dog Star Gang, Golden Triangle Gang, Johnny Yen, May East
Synopsis
This issue features profiles (physical stats, history, powers & weapons, appearance list) for the following characters ("N" through "Z", only) along with the initials of those who researched their history.
Notes
Being released in early 1993, this issue featured info up through TMNT Adventures #44.
This issue mistakenly lists the Rat King's first appearance as TMNT Adventures #1 rather than TMNT Adventures #11.
Community content is available under
CC-BY-SA
unless otherwise noted.