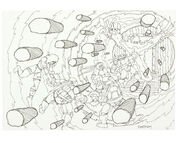 Teenage Mutant Ninja Turtles IV: The Foot Walks Again was a potential fourth Teenage Mutant Ninja Turtles live-action film, which was to be produced by New Line Cinema but never filmed. Instead, it remained as a few scripts written between 1995-1997 with various character concept artwork dated 1994.
At least three drafts of the script are known to exist, and have been sold by Kevin Eastman  through Heritage Auctions in May, 2012.  The three script covers credit Christian Ford and Roger Soffer (January 27, 1995), Craig Shapiro and John Travis rewrite of the Ford and Soffer script (1996), and a new draft by Shapiro and Travis (July, 1997).[1]
Concept artwork shared online by Kevin Eastman suggests the film might have featured characters like Kirby, Fang, Shredder, Spyder, Nano Spyder, Super Shredder, Kasey, Talbot, Lawson, Bugman and Evil April.[2]
Gallery
References