For the article about the third live-action movie, see Teenage Mutant Ninja Turtles III. For the article about the third TMNT game on the NES, see Teenage Mutant Ninja Turtles III: The Manhattan Project.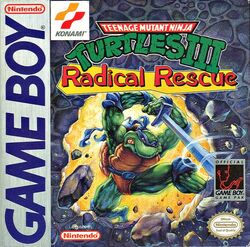 Teenage Mutant Ninja Turtles III: Radical Rescue is a Game Boy game by Konami, released in November 1993. It is the third Game Boy game based on the Ninja Turtles franchise, following Fall of the Foot Clan and Back from the Sewers.
Plot
Teenage Mutant Ninja Turtles III: Radical Rescue takes place when Leonardo, Donatello, and Raphael are waiting for Michaelangelo to come back with the pizza they sent him off to get. An emergency news broadcast with April O'Neil comes onto the screen, and she suddenly screams on screen. The three turtles head off to save her. Michaelangelo comes back shortly after they leave, and looks around for them, Only to hear an ominous voice from the TV. "Michaelangelo, If you want your brothers, come to the abandoned mine." Michaelangelo accepts, and the game begins.
Gameplay
The player begins the game by taking control of Michaelangelo, who must rescue the other Ninja Turtles, along with Splinter and April. Unlike other games based on the franchise, this is a scrolling action-adventure game reminiscent of the Metroid and the later Castlevania: Symphony of the Night. Each turtle has a different ability which is necessary to finish the game. Michelangelo can hover using his nunchaku as a helicopter, Leonardo can drill the floor by spinning with his katana, Raphael can hide himself inside his shell to enter passages that are otherwise too small to enter, and Donatello can stick to and climb walls.
Bosses
Gallery
Community content is available under
CC-BY-SA
unless otherwise noted.