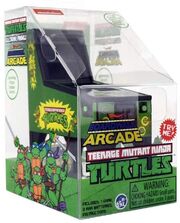 Released in 2019 by Boardwalk Arcade, Teenage Mutant Ninja Turtles Electronic Pinball is a handheld LCD pinball game inspired by Data East's 1991 Teenage Mutant Ninja Turtles pinball table.
While the top LCD screen displays an image of the Data East backglass (originally painted by Paul Faris), the gameplay on the main LCD screen is distinct from the Data East unit but incorporates many elements from the original table, such as a spinning pizza disc, flashing sewer entrance, and a multi-ball bonus, triggered by lighting four sets of targets corresponding to the colors of blue, orange, purple, and red.
Official Description
A fully functional miniature version of your favorite arcade game from the summer boardwalk to the after-school Mall video arcade.
Features electronic game play on two high resolution, High definition LCD screens. Includes digital score screen, lights, game sounds, multi-level play, and more!
This fully functional, miniature Teenage Mutant Ninja Turtles pinball machine measuring 1.75(L) x 4.25(H) x 3.5(W) of an inch, may be the coolest pinball game Ever! It fits in the palm of your hand!
Control the flippers from the front and back control buttons for easy a push the ball through bumpers, tracks, and rebounds – make the pizza spin!
Perfect for any Boardwalk Arcade fan! Recommended for ages 8 and up.
Gallery