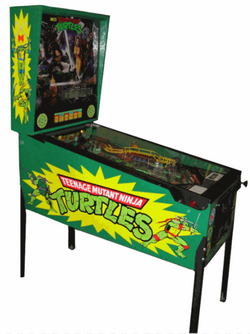 Teenage Mutant Ninja Turtles was a 1991 pinball machine. It was developed by Data East.[1]
The playfield artwork is credited to Kevin O'Connor, while the backglass artwork was painted by Paul Faris.
According to Stern Pinball, the unit was the world's first game to have "twin ramps," the second game to feature the new DMD display, and the first to have a underground shot, a thematically-appropriate "subway."[2]
Trivia
The pinball units shipped containing original Playmates Toys action figures inside the playfield.
During a presentation at the 2015 Northwest Pinball and Arcade Show, backglass artist Paul Faris recalled that TMNT creators Kevin Eastman and Peter Laird twice requested him to "enlarge" April O'Neil's anatomy to make it more characteristic of "pinball art."[3]
References
External links