This page is meant for Merchandise relates content only
3D Glasses
The new custom 3D Glasses for the new Teenage Mutant Ninja Turtles film and other movie franchises such as Transformers, SpongeBob SquarePants and Despicable Me.
The ninja turtles 3D glasses are molded and colored to resemble the turtles masks and as it seems in the pictures the glassrs legs can be connected in the back to recreate the knot on the back of a ninja mask.
Drink Covers
Miniature figures that work as drink covers will also be available for the Teenage Mutant Ninja Turtles Movie.
Crush Soda
Crush in a Half Shell
The Teenage Mutant Ninja Turtles are BACK on the big screen. Crush is harnessing a little hero power of its own this summer with collector cans and a NEW flavor, Berry Punch. Just for Leonardo.
Keep an eye out for codes on Crush packaging to get discounts on TMNT movie tickets OR win free tickets.
Redeem Codes, See the Movie Enter your code from your Crush purchase for $1 off of a TMNT movie ticket or collect six codes to redeem for a free movie ticket. Want another chance to win? Buy specially marked 2 liter or 20oz. bottles of Crush and you have a 1 in 10 chance to win a free ticket. Codes are located inside the box or under the cap.
More at: http://www.crushsoda.com/
Flavors
Leonardo(berry punch)
Donatello (grape)
Raphael (strawberry)
Michelangelo (orange)
April O'Neil (pineapple)
Pizza Hut
Cheesy Bites
The Turtles appear in the Pizza Hut cheesy bites tv commercial. Each turtle received a favorite special pizza.
SDCC Pizza Thrower
Pizza Hut has commissioned Synn Labs and their affiliate Special Effects Unlimited to make a life-size Pizza Thrower from the original TMNT toy series that actually throws pizzas! Not only that but this rad machine moves and can allegedly hit up to 75MPH. Check out the pics and look for this at SDCC this year.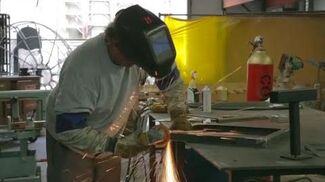 Pringles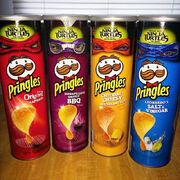 Flavors:
The Original Raphael
Donatello's Gnarly BBQ
Cheddar Cheesy Michelangelo
Leonardo's Salt & Vinager
Ninja Time Pizza
Turtle Time Sour Cream & Onion
Halloween Costumes
Community content is available under
CC-BY-SA
unless otherwise noted.