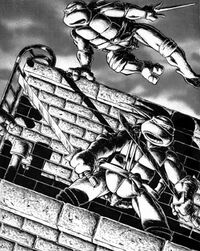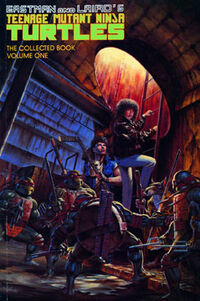 YOU'RE NOT ON 
 NICKTOONS 
 ANYMORE! 

Some TMNT stuff really isn't for little kids.
The Collected Book 1 is a collection of the first 11 TMNT issues, along with the four issues micro-series, published by Mirage Studios.
It's been printed in three editions:
Hardcover. Printed in a limited number, each book signed and sketched by Kevin Eastman and Peter Laird.
Softcover, with a black & white cover drawn by Eastman and Laird.
Softcover, with a cover drawn by A.C. Farley.
Softcover, Reprinted in July 2009 and it now includes the Fugitoid one shot and reworked tones and lettering by Peter Laird.
Stories collected
Notes
The three-page fold-out in #10 has been sized down to fit a regular double spread.
See also
Community content is available under
CC-BY-SA
unless otherwise noted.