This article is about the board game. For the comic see Shadows of the Past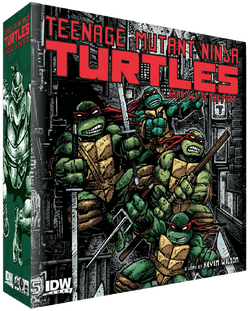 Teenage Mutant Ninja Turtles: Shadows of the Past is a board game developed by IDW Games.
Description
Teenage Mutant Ninja Turtles: Shadows of the Past is a scenario-driven campaign game that features story content from the IDW TMNT comic. Taking the role of their favorite Turtle or the ultimate villain Shredder, players battle their way through a series of 60-90 minute missions in which they develop their characters' strengths, fighting styles, and equipment along the way to create a lasting story arc. Fan-favorite characters like Casey Jones and Alopex appear throughout the missions as the Turtles call on their closest allies for help in battling their deadliest foes.
Components
Old Hob villain pack
15 Foot Ninja
5 Street Thug Gunners
5 Street Thug Brawlers
15 custom action dice
8 custom battle dice
4 hero sheets
24 special move cards
9 villain sheets
81 villain ability cards
5 ally cards
9 terrain cards
12 map tiles
104 status tokens
40 prop tokens
1 rulebook
4 adventure comics
Kickstarter exclusive content
Kickstarter
The project's $250,000 goal on Kickstarter was funded on February 4, 2016 with "stretch goals" funded in subsequent days. The Kickstarter is set to end on on Thu, Feb 25 2016 9:00 PM.
External Links