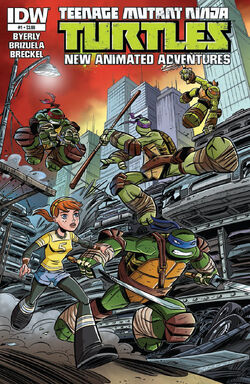 Teenage Mutant Ninja Turtles: New Animated Adventures is a comic series of the TMNT franchise published by IDW Publishing based on the 2012 TV series.
Publication lasted between July 2013 and June 2015.
Production history and plot overview
Similar to the classic Archie Comics compared to the original Mirage series, New Animated Adventures was intended to fill an additional niche in the comic market of a more young-reader focused series in comparison to the main IDW ongoing series. The series closely follows the plot of the 2012 TV series, and can only be regarded as a collection of supplementary side stories.
A preview issue of New Animated Adventures was published in May 2013 as part of Free Comic Day. Two months later the first regular issue of the series was released. The series ran until the summer of 2015 for a total of 24 issues; a series titled Teenage Mutant Ninja Turtles: Amazing Adventures replaced it.
This series is not to be confused with the comic magazine Nickelodeon Teenage Mutant Ninja Turtles, which Panini Comics published exclusively for the European market and has no direct connection with New Animated Adventures, though it also consists of side stories of the 2012 TV series.
Characters
Main Characters
Teenage Mutant Ninja Turtles
Villains
New characters
List of issues