YOU'RE NOT ON 
 NICKTOONS 
 ANYMORE! 

Some TMNT stuff really isn't for little kids.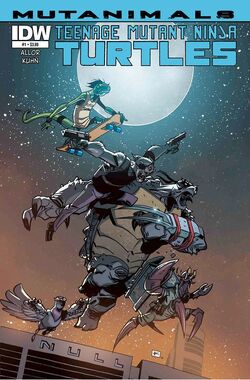 Teenage Mutant Ninja Turtles: Mutanimals is a four-issue mini-series from IDW Publishing, starring Old Hob and his mutant gang. TMNT: Mutanimals will debut in February 2015.
Writing: Paul Allor
Art: Andy Kuhn
Part One
To be released February 25, 2015
When someone close to the Mutanimals goes missing, the team consisting of Old Hob, Slash, Mondo Gecko, Herman the Hermit Crab, and Pigeon Pete will be put to the ultimate test. Teamwork doesn't exactly come easy to these outsiders, but they'll have to find a way to work together to take on a mysterious new entity known as The Null Group…
Part Two
To be released March 18th, 2015
The Mutanimals have uncovered a new mutant who has undergone unspeakable trauma at the hands of the Null Group. Hob and company are determined to bring the corporation down, but already divisions begin to form in the group when deadly tactics are discussed. Will the Mutanimals be able to stay intact?
Part Three
To be released April, 2015
Part Four
To be released May, 2015
Gallery