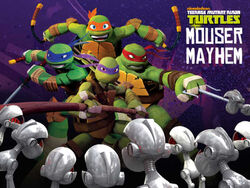 | | |
| --- | --- |
| | This article is classified as a placeholder, as it does not have enough information to even be classified as a Stub. This is not in accordance with TurtlePedia policy and must be expanded upon to be in compliance. |
Rewrite needed!


The text on this article or article portion isn't quite up to snuff. Do you have what it takes to make it work?
Teenage Mutant Ninja Turtles: Mouser Mayhem is the name of two different Flash based games from 4kids.tv and nick.com.