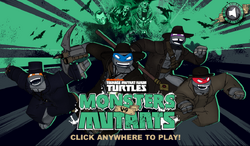 | | |
| --- | --- |
| | Note that this article is still under construction. |
Teenage Mutant Ninja Turtles: Monsters vs. Mutants is a 2017 Flash browser-based brawler game based on three episodes of the Tales of the TMNT season of the 2012 TV series: The Curse of Savanti Romero, The Crypt of Dracula, and The Frankenstein Experiment.
Players take the Ninja Turtles through various time periods and locales and beat up monsters and stop Savanti Romero.
Each level allows the player to select two characters, one of which is a "back-up" character which will be tagged in once the primary character is defeated. The player has access to a single basic attack, which will turn into a combo upon rapid successful hits, as well as a jump. Pressing attack in the air will deliver a diving jump kick. Players can also press the jump and attack buttons together to perform a spinning attack, press toward the enemy twice to perform a dash attack, and when the potion meter is full, unleash a special attack,
Appearing in Monsters vs Mutants
Characters
Species
Locations
See also