Teenage Mutant Ninja Turtles: Dimension X Assault is a stand-alone handheld video game developed by Tiger Electronics, and released in 1995. It is the only video game to take a character and design from the Red Sky episodes of the 1987 Teenage Mutant Ninja Turtles series.
The game's chief villain is Berserko, who has a plan to destroy the Earth as revenge on the Ninja Turtles. He utilizes "Gamma Bombs", which must be deactivated at the end of every level and finally appears in his Annihilator vehicle as the final boss.
Other than Berserko, the enemies include Foot Soldiers, Bebop, and Rocksteady.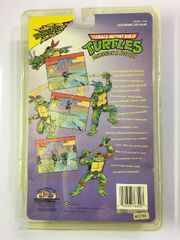 The game's instruction manual is known for taking liberties with the series' canon (relegating all of the general foes to being servants of Berserko), character identification mistakes (swapping Donatello and Michaelangelo's portraits, referring to the Foot Soldiers only as "Cyber-Soldiers"), massive amounts of typographical errors, and overuse of outdated slang on an embarrassing level even for its period of release.
Gallery
External links
http://gogreenmachine.org/tiger-electronics-teenage-mutant-ninja-turtles-dimension-x-assault-talking-electronic-lcd-game-1995/
http://gogreenmachine.org/tiger-electronics-teenage-mutant-ninja-turtles-dimension-x-assault-talking-electronic-lcd-game-1995/ http://gogreenmachine.org/tiger-electronics-teenage-mutant-ninja-turtles-dimension-x-assault-talking-electronic-lcd-game-1995/