m

(12 intermediate revisions by one other user not shown)
Line 1:
Line 1:
 
+

{{disambig}}

−

'''T.C.R.I''' ('''T'''echno '''C'''osmic '''R'''esearch '''I'''nstitute) is a scientific corporation/organization with a large, mysterious and imposing facility in Brooklyn, [[New York]].

+

'''T.C.R.I''' ('''T'''echno '''C'''osmic '''R'''esearch '''I'''nstitute) is a scientific corporation/organization with a large, mysterious and imposing facility in [[New York]].

 
 
 

==Comics==

 

==Comics==

 
+

<gallery captionalign="center">

−

*[[TCRI (Mirage)]]

 
 
+

TMNT TCRI Mir.jpg|'''{{miragelink|Techno-Cosmic Research Institute}}'''<br/>[[Mirage TMNT|Mirage]]

 
+

TCRI (IDW).jpg|'''{{idwlink|Techno Cosmic Research Institute}}'''<br/>[[IDW TMNT|IDW]]

 
+

</gallery>

 
 
 

==Television==

 

==Television==

 

===Organizations/Buildings===

 

===Organizations/Buildings===

−

<gallery orientation="landscape" spacing="medium">

+

<gallery ="">

−

TCRI building ext.jpg|<center>'''[[TCRI (2003 TV series)|T.C.R.I.]]'''<br>[[Teenage Mutant Ninja Turtles (2003 TV series)|2003 TV series]]</center>

+

TCRI building ext.jpg|''' '''<br>[[2003 TV series]]

−

S01E17 Turtles TCRI building.png|<center>'''[[TCRI (2012 TV series)|T.C.R.I.]]'''<br>[[Teenage Mutant Ninja Turtles (2012 TV series)|2012 TV series]]</center>

+

S01E17 Turtles TCRI building.png|''' '''<br>[[2012 TV series]]

 

</gallery>

 

</gallery>

 
 
 

===Episodes===

 

===Episodes===

−

<gallery orientation="landscape">

+

<gallery ="">

−

S01E17 Turtles TCRI building.png||<center>'''[[TCRI (episode)|TCRI]]'''<br>[[List of Teenage Mutant Ninja Turtles (2012) episodes|Episode]]</center>

+

S01E17 Turtles TCRI building.png|'''[[TCRI (episode)|TCRI]]'''<br>[[List of Teenage Mutant Ninja Turtles (2012) episodes|]]

 

</gallery>

 

</gallery>

 
 
−

==Video Games==

+

==Video ==

 
+

<gallery captionalign="center">

−

*[[TCRI (video games)]]

 
 
+

Wiki-background.png|'''{{2003vglink|Techno Cosmic Research Institute|T.C.R.I}}'''<br>[[Video games|2003 video games]]

 
+

</gallery>

 
 
 

==Movies==

 

==Movies==

 
+

[[File:Tmnt02b.jpg|thumb]]

−

*[[File:Tmnt02b.jpg|thumb]][[Teenage Mutant Ninja Turtles II: The Secret of the Ooze|1991 film]], the corporation is named T.G.R.I. (Techno Global Research Institute) removing the alien origin of the mutagen.

+

*[[Teenage Mutant Ninja Turtles II: The Secret of the Ooze|1991 film]], the corporation is named T.G.R.I. (Techno Research ) removing the alien origin of the .

 
+

[[File:17paramountturtle.png|thumb]]

 
⚫
 
+

*In the film ''[[Teenage Mutant Ninja Turtles: Out of the Shadows (film)|Out of the Shadows]]'', [[Baxter Stockman (Paramount)|Baxter Stockman]] works for TCRI.

 
 
 
+

[[de:Techno_Cosmic_Research_Institute]]

⚫
 
 
+

[[pl:TCRI]]

−

[[Category:Disambiguation pages]]

 
---
Revision as of 07:17, 14 February 2020
---
This is a disambiguation page — a navigational aid which lists other pages that might otherwise share the same title. If an article link referred you here, you might want to go back and fix it to point directly to the intended page.
---
T.C.R.I (Techno Cosmic Research Institute) is a scientific corporation/organization in multiple versions of Teenage Mutant Ninja Turtles with a large, impressive, mysterious and imposing facility in New York City.
Comics
Television
Organizations/Buildings
Episodes
Video games
Movies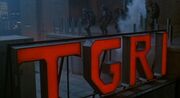 Community content is available under
CC-BY-SA
unless otherwise noted.