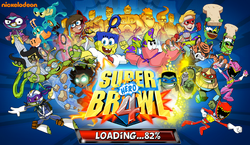 "Super Brawl 4" is a flash versus fighting game with many Nickelodeon properties. Each one of the characters has a superhero disguise that they use in combat.
Characters
Playable Roster
Sky Whale as himself
SpongeBob SquarePants as Invincibubble
Patrick as Mr. Superawesomeness
Sanjay and Craig as Remington Tufflips
Michelangelo as Tur-fly-tle

Red Ranger

as himself
Pink Ranger as herself
Breadwinners as The Bread Maker
Harvey Beaks as Night Maid
Korra in the Avatar state
Banana as Super Crazy Eyeball Dude
Spongebob Squarepants as Mermaid Man
Patrick as Barnacle Boy
Plankton in a robo-suit
Goat as Oatmeal Girl
Henry Hart as Kid Danger
Timmy as Cleft the Boy Chin Wonder
Boss
Quotes
Character select
Sky Whale: "Whoohoohoohoo!"
Spongebob: "We can do it!"
Patrick: "All right!"
Sanjay and Craig: "All right!"
Leo: "All right goes, let's do this!"
Mikey: "It's go time!"
Don: "Booyakasha!"
Raph: "Crognard the Barbarian!"
Red Ranger: "Yeah-heah!"
Pink Ranger: "Here! Hi!"
Breadwinners: "Heh heh ha ha woohoohoo!"
Harvey Beaks: "Go go go go!"
Korra: "Let's do this!"
Banana: "Banana!"
Plankton: "Heh heh ha ha ha ha!"
Goat: "Goat!"
Henry Hart: "I'm Kid Danger!"
Timmy: "Up, up and away!"
Victory
Leo: "Oh yeah!"
Mikey: "We won!"
Don: "Like a turtle do!"
Raph: "Time to pack it in."
Pink Ranger: "I hope that stings!"
Defeat
Spongebob: "You vile fiend!"
Leo: "Noo!"
Mikey: "Noo!"
Raph: "Awww!"
Pink Ranger: "This doesn't look good!"
Korra: "Unbelievable..."
Henry: "My gosh!"
Timmy: "I'm not in any real trouble, right?"
Tiger Claw: "Nooo!"
See also
External Links