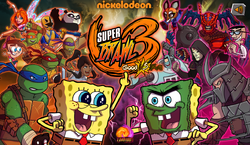 Super Brawl 3: Good vs. Evil is a flash versus fighting game available on the official Nickelodeon website. The previous two "Super Brawl" games were made before Nickelodeon's work with the Teenage Mutant Ninja Turtles franchise.
Players are given a choice of characters, which includes all four Ninja Turtles and Shredder. They may also choose a male or female "Fan" — a human companion dressed like the character, that will jump in for a super "Striker" move upon filling a bar.
Characters
Sanjay & Craig
Plankton
Lesile Noodman
Tufflips
Bloom
Gold Ranger (Power Rangers Samurai)
Xandred
Aang
Korra
Amon
Tahno
Denzel Crocker
Squeep
Po
Master Junjie
The Breadwinners
Fans
Nagesh
Dylan
Spike
Glitch
Garth
Lance
Ace
Dante
Astro
Shen
Kesuk
Ash
Tartok
Nicky
Bud
Winston
Li
Crevan
Ike
Pepper
Bobbi
Thistle
Karmen
Ortense
Violet
Pam
Zoe
Tanya
Feng
Yoki
Mei
Sakari
Penelope
Jasmine
Rosie
Dee
Shani
Lulu
Links
See also
Community content is available under
CC-BY-SA
unless otherwise noted.