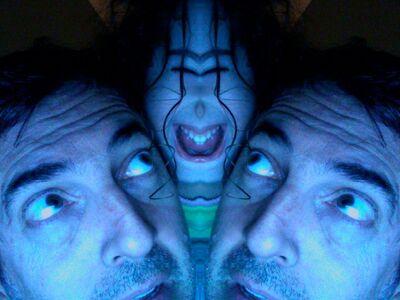 Stephen Murphy is an American comic book writer best known for his work on the Teenage Mutant Ninja Turtles series. He is also credited as Steve Murphy or simply Murphy, or by the pen name Dean Clarrain.
Biography
Stephen Murphy initially gained recognition for his work on the comic book series The Puma Blues along with illustrator Michael Zulli, from 1986 to 1989. It was originally published by Aardvark One International, but later became published by Mirage Studios.
Murphy was an initial signatory for the Creator's Bill of Rights, drafted in 1988.
In 1989, Murphy was brought in by friend Ryan Brown to help revamp the Teenage Mutant Ninja Turtles Adventures title for Archie Comics, beginning with issue 5, "Something Fishy Goes Down", which featured new original character Jack Finney (also known as Man Ray or Ray Fillet), co-created by Murphy and Brown. Murphy became the primary writer for the series through its run until its cancellation in 1996, during which time its independent continuity diverged greatly from the 1987 TV series upon which it was originally based, eventually more resembling Mirage TMNT comics. He created other original characters for the Archie TMNT series, including Jagwar, Nova Posse, Snake-Eyes and Sarnath. Murphy was credited as Dean Clarrain for all work on TMNT Adventures.
Also in 1989, Murphy became involved with Mirage TMNT and associated publications during the run of volume 1. He co-wrote "Sons of the Silent Age" with Jim Lawson, and he reunited with The Puma Blues veteran Michael Zulli to provide the script for Guest Era stories "A Splinter in the Eye of God?", "Failed Instant", "O-Deed" and "Souls Winter".
Murphy became a staff writer for the 2003 TV series and wrote many children's books tied to that series.
Murphy returned to Mirage TMNT comics work in 2004 as chief editor of Tales of the TMNT volume 2 for the first 37 issues, after which Dan Berger became the new chief editor. Murphy was a frequent contributor of stories and scripts throughout this series' run, leaving his biggest fingerprint on TMNT comics since his work on TMNT Adventures. Often, when Murphy wrote or scripted a Tales story that was illustrated by fellow Adventures veteran Chris Allan, he would once again be credited as Dean Clarrain.
In addition to TMNT stories, Tales of the TMNT also published a series of stories starring Murphy's character Professor Obligado, an Utrom adventurer. Though these stories were part of the Mirage TMNT continuity, Obligado's stories formed a separate, independent narrative only loosely connected to that of the turtles.
In 2006, Stephen Murphy again received recognition outside of TMNT for his work on the comics series Umbra, which became a 2007 Harvey Awards nominee for Best Continuing or Limited Series.
In 2014, Murphy, again credited as Dean Clarrain, reunited with artist Chris Allan to write a new TMNT Adventures short comic "Paper or Plastic?" as part of the Teenage Mutant Ninja Turtles 30th Anniversary Special by IDW Publishing.
Themes
Stephen Murphy is well known for incorporating certain recurring themes in his writing both in and out of TMNT, especially existential questions, social justice and environmental responsibility, the latter particularly in regard to global warming. These themes are usually framed through cautionary moral narratives woven into the story.
Credits
| | |
| --- | --- |
| | This article or section is incomplete. Some information regarding this topic has not been added. Please help TurtlePedia by finishing this article. |
A Splinter in the Eye of God? (December 1989) - script
O-Deed (December 1989) - script
Sons of the Silent Age (February 1990) - story (with Jim Lawson)
Souls Winter (July 1990) - script
Failed Instant (February 1991) - words
Not Forgotten (January 2004) - story
Seeds of Destruction (March 2004) - story
The Worms of Madness, Part 1 (May 2004) and Part 2 (July 2004) - story (with Rick Remender), script
The Grape (July 2004) - story
Scars (November 2004) - story (as Steve Murphy), script (as Dean Clarrain)
The Raisin' (November 2004) - story
Darkness Weaves (January 2005) - story (with Eric Talbot), script
The Risen (February 2005) - story
Community Service (March 2005) - script
Kaddish (April 2005) - story
The Question (April 2005) - story
The Quick and the Dead (May 2005) - story (with Scott Cohn and Peter Laird), script
Paris Nocturne (June 2005) - story (as Churchy La Femme, with Peter Laird as Pepé Le Pew), words
Loops, Part 1 (July 2005) and Part 2 (August 2005) - story (with Peter Laird and Rick Remender), script
First Mud (August 2005) - story
Apocalypse Vow (September 2005) - story
Sins of the Past (October 2005) - story (with Peter Laird), script (with Doug Rice)
Wrong Turn (November 2005) - story (with Peter Laird and Jim Lawson)
The Blue Hole (December 2005) - story (with Peter Laird), script
Altered Fates (December 2005) - story
A Ghost Story (January 2006) - script (with Ross May)
The Trophy (February 2006) - story
The Cure (February 2006) - story
The Rippling (February 2006) - story (with Jake Black and Peter Laird), script (with Black)
A (Bull) Wrinkle in Time (March 2006) - story (with Ryan Brown and Peter Laird), script
Rock of Ages (June 2006) - story
Kung-Fu Theatre (July 2006) - story (with Peter Laird), script
The Doors of Deception (July 2006) - story
My Hero! (July 2006) - story (with Diego Jourdan and Peter Laird)
The Value of Gold (August 2006) - story
White Horses (September 2006) - as Dean Clarrain, story (with Chris Allan and Peter Laird), script
Shanghaied (October 2006) - story
Circle of Darkness (December 2006) - concept, photo
The Eye of Aga-Moo-Tou (February 2007) - words

TMNT Movie Prequel

#1: Disposable Heroes (March 2007) - story
TMNT Movie Prequel #5: Five to One (March 2007) - story

TMNT: The Official Movie Adaptation

- second unit director
The Bait (April 2007) - story (with Peter Laird and Mike Manley)
The Pantheon (June 2007) - as Dean Clarrain, story (with Chris Allan), words
Triptyche (September 2007) - story (with Dario Brizuela and Ryan Brown), script
Silent Night (November 2007) - story (with

Martin Casanova

and Diego Jourdan), script
Swan Song (December 2007) - story (with Steph Dumais), script
The Amulet (March 2008) - story (with Jake Black)
The Crystal at the Heart of the World (November 2008) - story (with Ryan Brown and Peter Laird), script
All Tomorrow's Yesterdays (May 2009) - story (with Ryan Brown), script
The Paradox of Chudnovsky (June 2011) - story, script
External Links