Spider Bytez
Biographical information
Physical description
Species

Mutant Spider

Gender
Eye color

None

Out of universe information
Era(s)
First appearance
Teachers and Students

  [Source]
Spider Bytez
is the name commonly assigned to a minor monster appearing in the
Back to the Sewer
episode
The Engagement Ring
. Though unnamed in the episode, Spider Bytez was the name given to the unreleased action figure that the character's design is based on.
In Back to the Sewer, April, under the influence of demonic powers, created two Spider Bytez creatures, albeit with slight redesigns and different colours. They attacked Casey and Raphael, but they were able to defeat them.
Unreleased Action Figure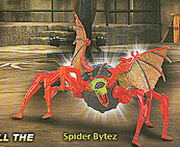 Spider Bytez was set to release alongside Metal Klawz as a villain in the "Sub-Sewer" action figure sub-line, but never reached shelves.
Community content is available under
CC-BY-SA
unless otherwise noted.