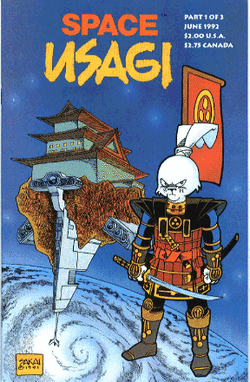 Space Usagi is a comic book series by Stan Sakai which is a spin-off of his Usagi Yojimbo series. The protagonist of Space Usagi is Miyamoto Usagi II, who is descended from and named after the 'Usagi Yojimbo' character.
In addition to his first Usagi Yojimbo comic book series, Sakai created a limited spin off series called Space Usagi that featured characters similar to those in the original series, including a descendant of Miyamoto Usagi, but set in a futuristic setting that also emulated Feudal Japan in political and stylistic ways. Three mini-series of three issues each and two short stories featuring the characters were produced. Sakai has tentative plans to produce a fourth Space Usagi miniseries, but nothing has been announced yet.
A Space Usagi animated series was planned, but aside from a short pilot, nothing ever came of it. [1]
References