Shrednaut
Production information
Technical specifications
Other systems
Usage
Era(s)

2003-2009 series

Affiliation

  [Source]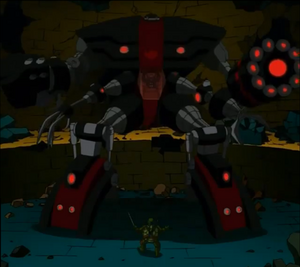 Shrednauts were giant Foot mechs piloted by Foot operatives. They appeared in seasons 4 and 5 of the 2003 TV series and served Karai. The word Shrednaut is an obvious portmanteau of the words "Shredder" and "juggernaut" but is also meant to rhyme with "dreadnought."
They appeared in "Scion of the Shredder", "Prodigal Son", "Good Genes, Part 2"  and "New World Order, Part 1". A Shrednaut was also seen on display as an artifact in Fast Forward in "Future Shellshock" and "The Journal".
Gallery