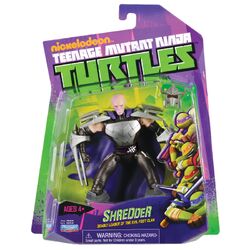 The subject of this article is often referred to in promotional materials as "Shredder 2", "Shredder #2" or "Shredder 2.0"
Deadly leader of the evil Foot Clan!
Description
Shredder is determined to get revenge! As the infamous leader of the Foot Clan, Shredder removes his mask revealing deep scars that cover his face from being trapped in a burning building after a brutal fight with the Turtles' sensei, Splinter.
Weapons: Removable helmet, Forbidden Ninja Techniques & Razor Sharp Armor
Team: Foot Clan
Accessories
Removable helmet
Removable cape
Articulation
Swivel Head
Swivel Hinge Shoulders
Swivel Hinge Hips
Hinge Knees
Swivel Wrists
Gallery
2013 SDCC Exclusive Version
A version of this Shredder figure was released as a San Diego Comic Con 2013 exclusive. Besides the packaging, the figure mold is identical, except for the chrome painting. It also comes with a manhole cover stand for the figure.
Community content is available under
CC-BY-SA
unless otherwise noted.