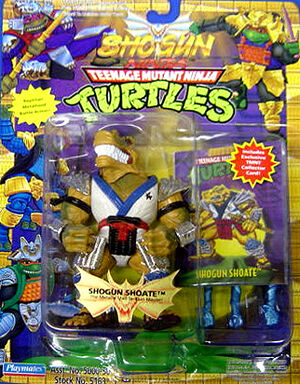 The Metallic Mad Shogun Mauler!
Vital Lizardtoristics
Favorite Food: Turtle Torte
Favorite Pastime: Eating Turtle Torte
Favorite Movie: Teenage Mutant Ninja Turtles III (the part where the Turtles are in lots of trouble)
Description
Take the toughest snake skin, wrap it in interlaced leather, bundle it together with lizard flesh and you've got an idea of how thick-skinned Shogun Shoate really is. But only an idea. That's right kids, there's more goin' on with this metallic Mutant mad Shogun mauler than meets his large lidded eyes! He's perfectly protected with his reptilian metallized battle armor. As the moon rises over the dark sewers, there comes a time to take command of the night. And when it comes time to Turtle terrorize, Shogun Shoate is Shredder's favorite battlin' beast to call on (next to Shogun Triceraton, who's also on the most favored list). This upright reptile is the king of the kick, the prince of pound, the ruler of roughhousin', the - - well, you get the idea. Muscled, Mutated and mad-tempered, Shogun Shoate is a nasty Ninja nightmare, who's packed with power - - and mighty mega Shogun weapons! When this huge hunter preys on Shogun Turtles, he packs his long lizard blade for dynamic dude duelin'! And if his Dragon-headed double dose axe doesn't do damage on the first swing, there's a chance for a double whammy on the rebound! Shogun Shoate's slithery sharp snake slicer comes in handy for the final fillet assault. Look out, Turtles - Shogun Shoate's one cold-blooded bad boy who doesn't mind mincin' fellow reptiles!
Accessories
Reptilian Metallized Battle Armor
Dragon-headed Double Dose Axe
Slithery Sharp Snake Slicer
Long Lizard Blade
Gallery