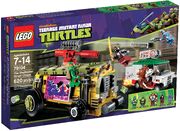 Deliver turtle-powered justice to Dogpound with the Shellraiser!
Description
This set is composed of 620 pieces.
Dogpound is speeding through the city, making special deliveries of toxic ooze in his pizza delivery van. Hit the road with Leonardo and Michelangelo in the teched-out Shellraiser to stop that angry mutt! Turn the powerful LEGO® Technic shooting cannon 360 degrees and open fire! Unfold the Shellraiser's side panels to reveal the computer workstation, weapons rack and skateboard! Take the pursuit off the streets and onto the railroad tracks by raising the rubber tires up to reveal track wheels! Once you've stopped Dogpound, battle on the rooftop against his minions: The Kraang and a Foot Soldier.
Includes 5 minifigures:
Features:
LEGO® Technic shooting cannon
Rising wheel function
Hidden rail wheels
Computer workstation
Weapon rack
Skateboard and seats
Includes:
Dogpound's pizza delivery van
2 ooze drums
Includes 6 accessories:
LEGO® Technic shooting cannon
2 swords, nunchucks
Gold sword
Laser gun
Remove the Shellraiser's roof to play inside! Raise the wheels to ride on tracks with the hidden train wheels! Collect the exclusive Dogpound character!
Measures over 6" (16cm) high, 9" (23cm) long and 5" (12cm) Pizza delivery van measures over 3" (8cm) high, 3" (9cm) long and 2" (5cm) wide
Notes
This set includes an alternate build in which instructions can be found at the LEGO website.
Gallery