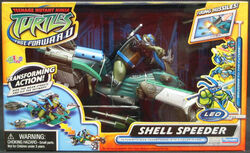 Futuristic Bike Transforms Into A Hover Flyer!
Fast Forward Leo loves this latest and greatest Mutant-Modified machine! Thanks to the "geek-squared" inventing brainpower of Cody Jones and Donatello, this furious four-wheeler has had its tires tricked out into Hover Jets! All Leo has to do is split the Shell Speeder's front and back forks to shift out of street mode, then throttle fast and aim high to fly his transformed sky-sled! From teenage mutant riding the mean streets of New Manhattan, to ninja turtle flying the skyways of 2105, Leonardo leads the way into the Fast Forward world of tomorrow!
Community content is available under
CC-BY-SA
unless otherwise noted.