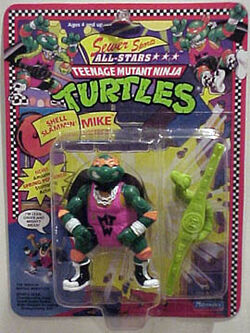 The Radical Reptile Wrestler!
Accessories: Sewer Snake Buddy, MWF Championship Belt, Championship Cape
Title: Shell Weight Mutant World Champion
Height: 5′ 2″ with boots
Weight: 180 lbs. with championship cape (yes, it's a heavy cape)
School Team: The Pizza Pounders
144 Undefeated Matches – 1 Tie
Favortie Hold: The Sewer Sleeper
Shell Slammin' Mike's a hero that holds that hurt. Spinning… pinning… winning. That's the way Mike likes it. He'll even tangle with tag teams – and still slap them silly with his sonic slammin' legs! This royal rumblin' reptile's got an awesome array of mutant maneuvers – from the Foot Flattener to the Killer Kick. Shell Slammin' Mike can't wait to try out the Brain Buster hold on Krang's cranky cranium. And to really menace the meanies, he's got a championship cape and belt, proving he's a world class winner worth his weight in pizza!
Gallery